An Archaeology of Foreshore Plastics
2017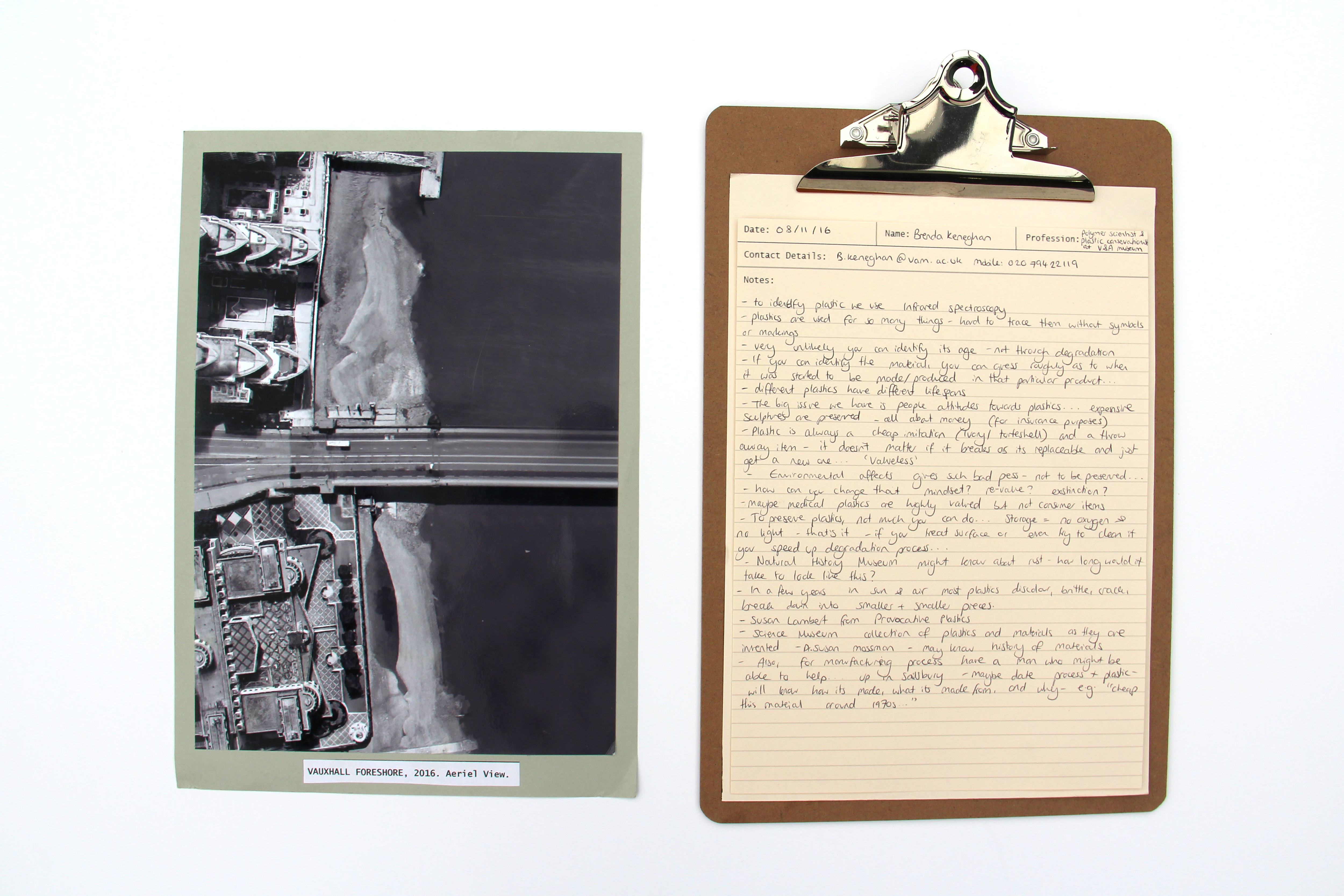 Can we gain anthropological insights from found plastic artefacts and to what extent can this encourage us to redefine our perceptions of plastic from valueless, throw-away and replaceable to treasured, precious and preserved?
Plastic is the icon of consumer culture. The global production of plastic has continued to rise for the last 50 years from less than 2 million tons produced in 1950, to today, over 300 million tons of plastic are produced annually.

Nearly every single piece of plastic ever produced still exists today. Approximately 10-20 million tons of plastic ends up in our oceans each year, contaminating and killing hundreds of thousands of wildlife each year.

While the effects of plastic pollution on our oceans is widely publicised, the effects on our land is much lesser known. Despite this lack of study, it is very clear from casual observation that plastic waste can be found in most, if not all, inhabited environments.

In just over 100 years – just a blink of the Earth's entire existence - the consequences of consumer culture have had an irreversible impact on our planet.
The project aims to raise questions about our current definition of plastic and present alternative definitions in order to encourage a more responsible and sustainable environment.
We are leaving behind us a mass of plastic waste but what does this mean for the future of archaeology? Can the archaeological tools and methods of today teach us anything about plastic artefacts? How much information can we
really gain from plastic artefacts? With plastics having such a 'bad press', is it possible to change our perception of plastics?

By applying the methodologies of current archaeological practice to contemporary plastic artefacts, a forensic style investigation explores the journey of 5 found objects from the Thames foreshore.

With the help of several experts, each found plastic artefact was reverse engineering to find the What, When, Where, Who, How and Why of its making. The journey was documented trough a series of expert interviews, photography, reports and artefact analysis.


Project Advisors:

Lara Maiklem, Mudlarker

Elliot Wragg, Thames Discovery Programme Archaeologist

Dr Brenda Keneghan, Polymer Scientist and Plastic Conservationist at the V&A

Colin Williamson, Plastic Manufacturing Expert