On The Far Side of the Marchlands
2017
About the Exhibition

Exhibition by Morehshin Allahyari, Cathrine Disney, Keeley Haftner, Brittany Ransom and Daniel Rourke.

Schering Stiftung, Unter den Linden 32–34, 10117 Berlin
A 'marchland' is a medieval term for a space between two or more realms; a zone betwixt the control of states, in which alternate rules of law and conduct might apply. On the Far Side of the Marchlands explores the potential of radically new topographies – "intertwined histories and overlapping territories"¹ – composed of hybrid realms of experience, culture and materiality. The world can no longer be considered a singular thing. Rather there are worlds – plural – caught in a web of social, technological and what might once have been considered 'natural' aspects, tensions and forms; a profusion of networks in which the processes and behaviours we call 'life' must also become plural.

On the Far Side of the Marchlands is a collaboration between Morehshin Allahyari, Cathrine Disney, Keeley Haftner, Brittany Ransom, and Daniel Rourke that speaks to the contemporary desire for transformation. The exhibition in the Schering Stiftung features a zoo of hybrid figures: from stupid/intelligent insects to short-sighted/forward-thinking posthumans; from chimera materials that ooze, respire and transmute, to murky politics impossible to clarify as either positive or negative. On the Far Side of the Marchlands expands on the material and conceptual hybridity expressed in The 3D Additivist Cookbook: a compendium of provocative projects by over one hundred artists, activists, and theorists concerned with 'Additivist' practices. The exhibition and Cookbook invite visitors to look beyond boundaries, speaking to a growing need for radical forms of transformation.
About the Works

The exhibition contains three standalone 'islands' in addition to a speculative map, and digital displays of The 3D Additivist Manifesto and The 3D Additivist Cookbook.
Cathrine Disney
Ecdysis
Laser cut bioplastic and lamb's wool, 2017

Ecdysis refers to the process of shedding or moulting of an organism's epidermis in order to rejuvenate, grow, and become more resilient. In a possible near future, facing the inevitability of human extinction, should we continue our futile attempts to transform the planet or embrace the biotechnological (r)evolution, adapting ourselves to suit the hostile environments we inhabit?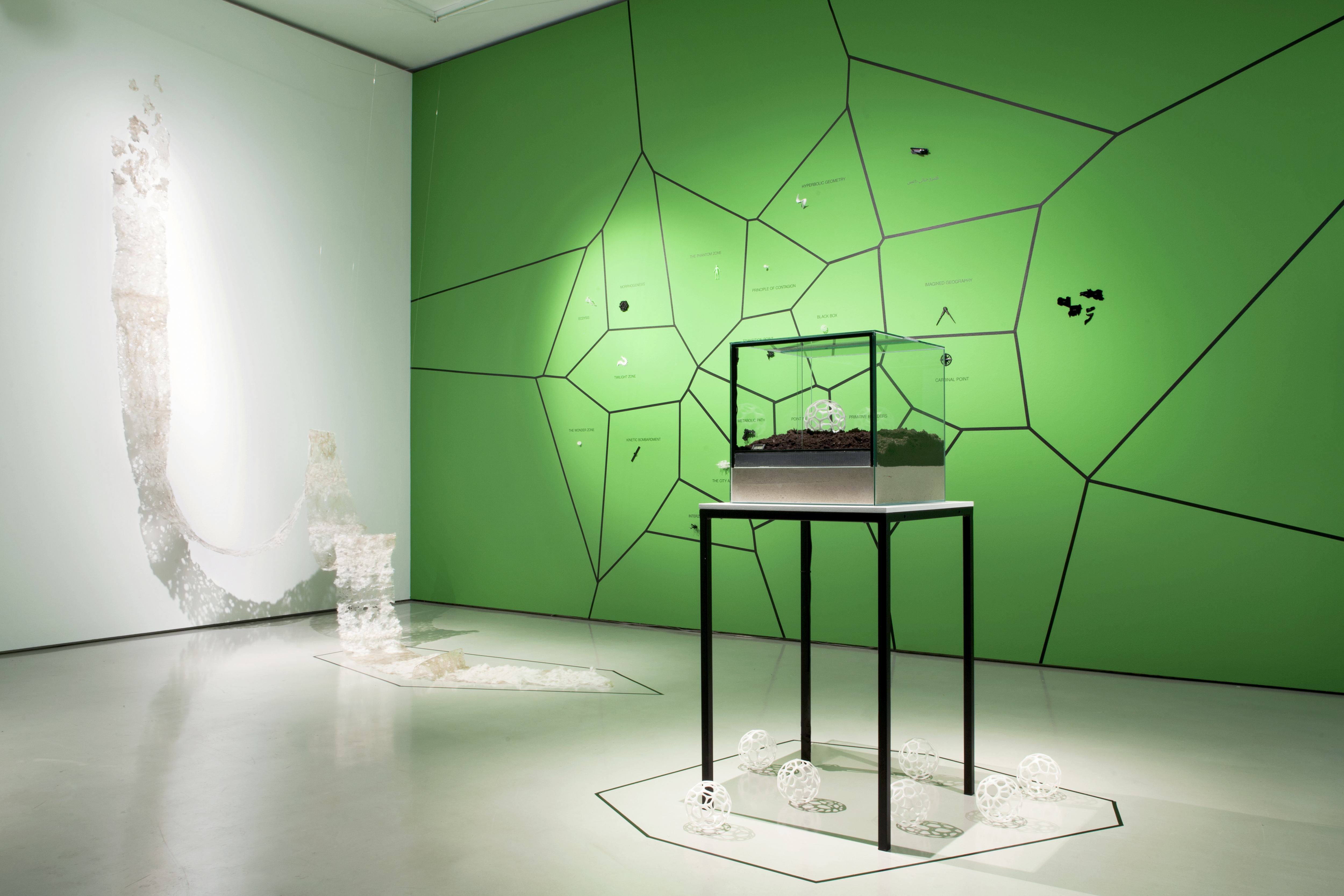 Black Box is a propositional sculpture: a glass cube inside of which the conditions of an industrial compost facility are recreated. Once a week over its eight-week exhibition period, a spherical 3D print is installed in the glass 'terrarium'. These prints are made from PLA (polylactic acid) – a plastic polymer derived from corn sugar through a fermentation process that has been designed to be compostable at an industrial scale. Black Box pseudo-scientifically probes the limits of this material, while investigating the poetics of decomposition.

Keeley Haftner
Black Box
Terrarium, compostable plastic 3D prints, thermometer/hydrometer, microbes, soil, heating cable, sand (with Zotrax Voronoi Sphere by ZRAFT), 2017
Brittany Ransom
Primitive Borders

Polyethylene Terephthlate Glycol formed over CNC milled forms, PLA Plastic, Laser Cut Acrylic, Pipe Cleaners, Ant Gel, Live Ants, 2017

Inspired by the Uncle Milton ant farm that has been sold commercially to children for over 60 years, Primitive Borders investigates the potential processes of a society adapting to futuristic materials (ant gel) and a forced living structure. The ants exist within five structures that are created using primitive forms through digital fabrication techniques. A geometric primitive is a simple form that is a prepackaged building block within 3D modeling software. The ants can freely travel from one primitive cluster to another, crossing borders to possibly create alliances, enemies, or perish.


On the Far Side of the Marchlands recognises that to build new worlds we also need to rebuild ourselves, so both can remain in mutual flux. "Worlds – or different versions, which amount to the same thing – are created by composition and decomposition, by balancing and assemblaging, by eliminating and supplementing, by analogies and distortions." - Jean-Luc Nancy

Morehshin Allayari and Daniel Rourke
Voronoi Decompositions
Wall printed map, text, and 3D prints, 2017
Morehshin Allayari and Daniel Rourke, with sound design by Andrea Young
The 3D Additivist Manifesto


Video manifesto, 2015
In March 2015 Allahyari & Rourke released The 3D Additivist Manifesto, a call to push the 3D printer and other creative technologies, to their absolute limits and beyond into the realm of the speculative, the provocative and the weird. #Additivism is a portmanteau of additive and activism: a movement concerned with critiquing 'radical' new technologies in fablabs, workshops, and classrooms; at social, ecological, and global scales. #Additivism questions whether it's possible to change the world without also changing ourselves, and what the implications are of taking a position. The manifesto can also be viewed online at additivism.org/manifesto.


The 3D Additivist Cookbook, devised and edited by Morehshin Allahyari and Daniel Rourke, is a free compendium of imaginative, provocative works from over 100 world-leading artists, activists and theorists. The 3D Additivist Cookbook contains .obj and .stl files for the 3D printer, as well as critical and fictional texts, templates, recipes, (im)practical designs and methodologies for living in this most contradictory of times. It can be downloaded as a free 3DPDF and torrent archive at additivism.org/cookbook.
Morehshin Allayari and Daniel Rourke (ed.)
The 3D Additivist Cookbook


A 3D PDF compendium of works from over 100 world-leading artists, activists and theorists, 2016
Morehshin Allahyari
(Iran/US)

morehshin.com



Artist, activist, and educator. She thinks about technology as a philosophical toolset and a poetic means to document the personal and collective lives we live and our struggles as humans in the 21st century. Morehshin is currently an artist in residence at Eyebeam's one year research residency program (2016–2017).



Brittany Ransom
(US)

brittanyransom.com


Artist and educator currently living in Long Beach, California. In her work Ransom explores the paradoxical bonds between human, urban and natural ecologies.
Cathrine Disney
(UK)

cathrinedisney.com

London-based interdisciplinary researcher, writer and curator whose work explores the blurring boundaries and entangled relationship between materials, emerging technologies and the human body.



Daniel Rourke
(UK)


machinemachine.net


Writer/artist and educator based between London and Berlin. In his work Daniel exploits speculative and science fiction in search of a radical 'outside' to the human(ities), including extensive research on the intersection between materiality, the arts, and posthumanism.



Keeley Haftner
(Canada)



keeleyhaftner.com



Chicago-based Canadian artist who transforms garbage into sculpture in an attempt to locate its lost material and affective value.